Medical Practices are where most people interact with their doctors and are a reflection of the physicians.   The physician's office is where the patient's opinions and expectations of the doctors and services begin to formulate when they enter and meet the professional staff.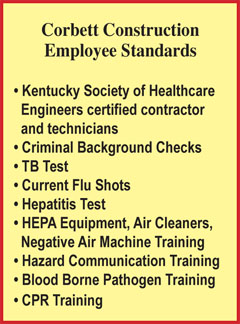 Medical practices are specialized facilities that include an arrival area, examination rooms, offices, employee area, and confidential medical records. 
We got our start with building and renovating medical practices and still have a passion for providing this specialized construction service.  All these areas have be designed and built to ensure efficiency of the practice along with patient comfort and confidentiality.
Corbett Construction provides a level of quality with its medical practice project that can only come from having a competent and experienced team who applies their craft to your project.  Our strong start-to-finish skills will allow you to plan a competition and turn over date of your practice.  The company's estimators and managers have the ability to visualize your project from the approved blueprints and identify any problem before it becomes an issue. 
Your patients have developed a trust and loyalty to your practice and you will want the office to remain open during a renovation.  Our planners understand the importance of remaining open and operating and can develop a plan that will "cascade" the project's milestones.  This will make the operation as efficient as possible during a renovation.  We will communicate directly with your designated managers to keep the practice's employees informed and minimize confusion.
Corbett employees, subcontractors and others associated with the company are required to have criminal background checks and up-to-date immunizations.  We will consult with the medical management group and will obtain any required additional test or vaccinations for our employees and subcontractor partners.  We will be more than happy to answer any questions or address your special needs or concerns.  The healthcare sector is a specialty that we continue to focus our efforts to meet the high demands of the industry.

You, your medical team and most importantly, the patient will enjoy the surroundings that the craftsmen at Corbett Construction will provide.